Key facts
UNE unit code: HIST476
*You are viewing a unit that is offered in 2021. Unit information may be subject to change prior to commencement of the teaching period.
Intensive schools
Intensive Schools
Intensive schools are either mandatory or voluntary periods of on-site study at our UNE Armidale or Sydney campuses. Please read the unit information for specific details.
Unit information
Oral history is a social research methodology unit. It utilises approaches developed in the social sciences and applies them to conducting and interpreting interviews that record individuals' memories of past events and experiences. This unit introduces the interdisciplinary literature that underpins the method; the skills and ethical issues involved in conducting oral history interviews; and the challenges and processes of interpreting and presenting the insights and information collected through oral histories. It also provides an opportunity to conduct, interpret and present an interview with a person of your choice.
Combined units
Combined Units
Combined units have the same content but can be studied at different levels.
Intensive schools
There are no intensive schools required for this unit.
Requisites
Pre-requisites
Pre-requisites
A pre-requisite is a unit that you must pass before you will be permitted to enrol in a related or subsequent unit. Most pre-requisite units will contain foundation knowledge which is essential for success in later units. Read more.
candidature in a postgraduate award
Restrictions
Restrictions
A restriction describes a unit that you have already successfully completed, which is considered the equivalent to another unit that you are attempting to enrol in. Depending on the units you have completed previously, you may be exempt from completing subsequent restricted units. Read more.
HIST276 or HIST376 or LOCH216 or LOCH423
Notes
offered off campus in even-numbered years
Please refer to the student handbook for further details on this unit.
Unit coordinator(s)
Lorina Barker
Lecturer - Human Resource Services
Learning outcomes
Upon completion of this unit, students will be able to:
demonstrate an advanced understanding of and critically evaluate the nature of memories recorded through oral history interviews and their use as sources for social and historical research;
critically assess and apply at an advanced level, key theoretical, methodological and ethical issues underpinning effective oral history interviews;
assess critically and at an advanced level the interpretation and use of oral history interviews in social and historical research; and
with high level independent judgement, plan, complete and reflectively evaluate an oral history interview project, and present a coherent and sustained exposition of knowledge and ideas.
A five-star experience
Teaching Quality NSW
Good Universities Guide 2021
Postgraduate Teaching Quality
Good Universities Guide 2021
Undergraduate Student Support
Good Universities Guide 2021
Overall Experience
Good Universities Guide 2021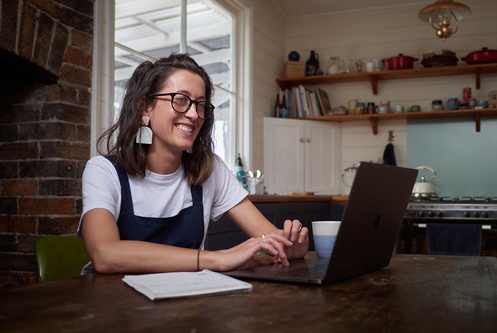 Studying online
At UNE we know it takes more than just being online to be a great online university. It takes time and experience. We pioneered distance education for working adults back in the 1950s, so we've been doing this longer than any other Australian university.
We understand the challenges faced by busy adults studying at home. We know that a vital part of online study is your engagement with the learning community. Communication with your classmates, teaching staff and university support staff will enhance your study experience and ensure that your skills extend beyond the subject matter. UNE's teaching staff are experts in their field which is why UNE consistently receives five stars from students for teaching quality, support and overall experience.*
*The Good Universities Guide
Stay connected
Register your interest and we'll keep you updated
Why study with us?
I'm grateful to UNE for the opportunities studying has given me, but above all, for making me realise I could actually do it, and giving me a sense of accomplishment.
Claire Haiek
What happens next?
1. Decide on your course
Got any questions about a course you would like to study? Don't hesitate to contact us, our Future Student team is standing by to help.
2. Apply
2021 applications are now open. The application process only takes 20 minutes to complete. Don't delay, apply now!
3. Receive an offer, enrol and start studying
Your start date is based on the study period you choose to apply for.